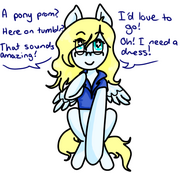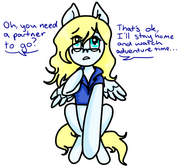 Hay everypony!
It's just me again. Thanks to Chaos Fission, I found out about a prom that tumblr is hosting, I put the details up but I'm not sure if it has an actual page though, a lot of people reblog the picture bot not the source.
I'd even do traditional art if ponies wanted their formal attire done! Though you'd have to give me a sample of your outfit. We have to hurry though, it's on the 25th of THIS MONTH!
Also, if anyone wants to drop their tumblr name here I wouldn't be against it.
PONIES GOING TO PROM:
ChaosFission <-> Sentient Sky
PONIES WITHOUT DATES:
LordFireStorm
Amalvi
Ad blocker interference detected!
Wikia is a free-to-use site that makes money from advertising. We have a modified experience for viewers using ad blockers

Wikia is not accessible if you've made further modifications. Remove the custom ad blocker rule(s) and the page will load as expected.