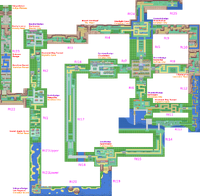 Routes are the links between locations and are usually where you will look to find Wild Ponymon.
PAGE UNDER CONSTRUCTION
Mt. Moon (renamed Mt Everhoof)
Rarity's Mine
Diamond Dog Tunnel
Route 3 (Crystal Mountains)
Route 4 (Crystal Mountains)
Route 5 (Hollow Shades)
Route 6
Route 7
Route 8
Route 9
Route 10
Route 11
Route 12 (Celestial Sea)
Route 13 (Horseshoe Bay)
Route 14 (Horseshoe Bay)
Route 15
Route 16
Route 17
Route 18 (Ghastly Gorge)
Route 19
Route 20
Route 21 (Upper)
Route 21 (Lower)
Route 23 (Unicorn Range)
Kindle Road (Rename; One Island(Dragon's Lair) to Mt. Ember)
Ad blocker interference detected!
Wikia is a free-to-use site that makes money from advertising. We have a modified experience for viewers using ad blockers

Wikia is not accessible if you've made further modifications. Remove the custom ad blocker rule(s) and the page will load as expected.