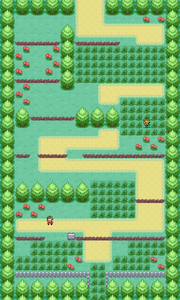 Back to Routes
Route 1 is the first route in Dawn/Dusk, stretching between Sweet Apple Acres to the south and Ponyville to the north.
Descripton
Route 1 runs directly north and south. It features long grass, flowers and ledges and is bordered by trees to the east and west.
There is no water along this route.
Ponymon
Tall Grass:
Potion: Talk to the Ponymon Mart employee. Gives free sample.
Trainers
None.
Signs
Trainer Tips
See those ledges along the road? It's a bit scary, but you can jump from them. You can get back to Sweet Apple Acres quicker that way."
Locations and Notices
Trivia
This location was called "ROUTE 1" in FireRed.
Ad blocker interference detected!
Wikia is a free-to-use site that makes money from advertising. We have a modified experience for viewers using ad blockers

Wikia is not accessible if you've made further modifications. Remove the custom ad blocker rule(s) and the page will load as expected.