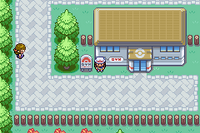 Gyms are buildings where Ponymon trainers gather in major locations across the region. Each gym specializes in a particular type of Ponymon. After defeating everyone in each gym, the leader gives the player a badge that enables the player to use certain moves. The badges are also required to pass the guards on Route 23.
Leader: Erika
Type emphasis: Grass (change?)
Badge: Rainbow Badge
Leader: Sabrina
Type emphasis: Psychic (change? Magic?)
Badge: Marsh Badge
Leader: Blaine
Type emphasis: Fire (change?)
Badge: Volcano Badge
Leader: Giovanni
Type emphasis: Ground (change?)
Badge: Earth Badge
Ad blocker interference detected!
Wikia is a free-to-use site that makes money from advertising. We have a modified experience for viewers using ad blockers

Wikia is not accessible if you've made further modifications. Remove the custom ad blocker rule(s) and the page will load as expected.