Together, PRINCESS CELESTIA and PRINCESS LUNA (in NIGHTMARE MOON form) are the official version mascots of Ponymon Dawn and Dusk. They are also two of the type archetypes of the game, representing Light type and Dark type Ponymon. Both Ponymon are super effective against the Chaos type.
Evolutions
CELESTIA evolves from Y Celestia.
LUNA evolves from YPrncsLuna, and has a second evolution to Ngtm Moon. This is probably through use of a NIGHTMARE STONE.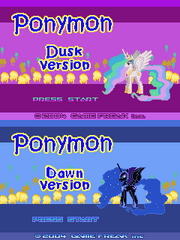 Ad blocker interference detected!
Wikia is a free-to-use site that makes money from advertising. We have a modified experience for viewers using ad blockers

Wikia is not accessible if you've made further modifications. Remove the custom ad blocker rule(s) and the page will load as expected.